The Seljuk Han of Anatolia
EGRIDIR HAN
---
DISTRICT (IL)
32 ISPARTA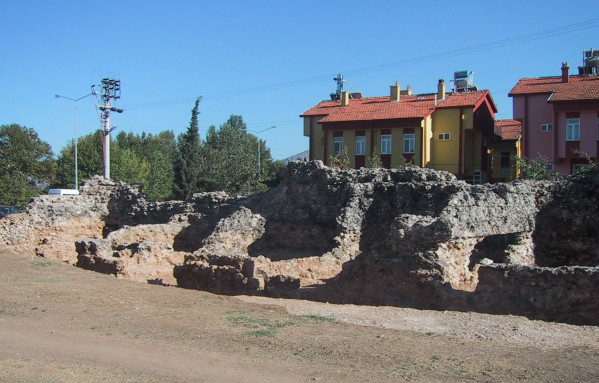 courtyard southern side aisles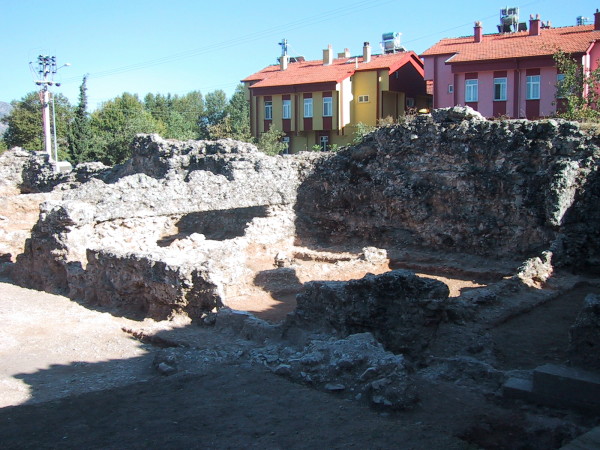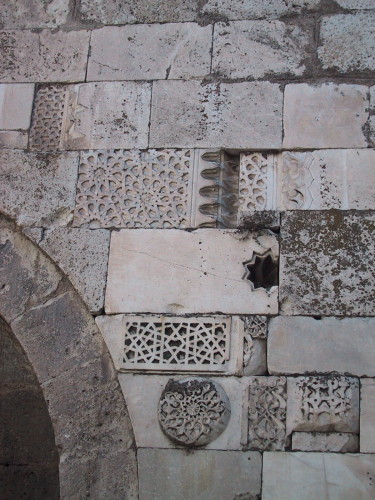 Eğirdir city wall wıth incorporated spolia from the han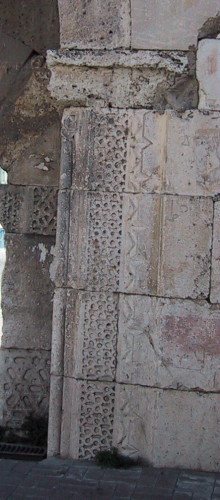 detail of city wall; in all certainty originally the decorative element of the main portal of the han

LOCATION
This han is located in the town on Eğridir at the southern end of the lake of the same name. It is located approximately 3 km outside of town on the Gelendost-Akşehir road, just beyond the Bone Hospital.
OTHER NAMES
Giyaseddin Keyhüsrev Han

DATE
1237-38
Due to its impressive size and similarity in plan to the Sultan Hans of Aksaray and Kayseri, this han has traditionally been considered to be a royal commission, most likely by Alaeddin Keykubad I and finished by his son Giyaseddin Keyhüsrev II. There is, however, no definite proof of this, as the inscription plaque has been lost.

PATRON
Giyaseddin Keyhüsrev II

BUILDING TYPE
Covered with courtyard (COC)
Covered section smaller than the courtyard
Covered section with a middle aisle and 2 rows of aisles on each side
7 bays of vaults in covered section
1 arcade of open vaults on the southern side of the courtyard

DESCRIPTION
The han faces west towards Lake Eğirdir. It is the last han on the Konya-Eğirdir route, which then linked down to Antalya and the coast.
Although the han is now in ruins, the plan can be determined. It consists of a large courtyard with a single row of 7 open cells to the southern side. The hall is smaller than the courtyard, and comprises 3 aisles covered by pointed arches, with an oculus located at the middle. There are 6 corner towers and 14 side towers.
The two portals have been lost, but decorative stones from them have been incorporated into the city walls of the city, next to the Dündar Bey Medrese.

DECORATION
The han has been pillaged for many years for other building projects. Some 25 stone fragments from it have been used in the city walls next to the Dündar Bey Medrese. If the spolia from this han now incorporated into the city walls is any indication, the portal of the han must have included many decorative elements such as trelliswork, blossoms, arabesques, polygons and braids.

DIMENSIONS
Total area: 1,640 m2
Area of hall: 1,290m2
Area of courtyard: 1,640m2
This is a very large han, with a size comparable with the Sultan Hans of Kayseri and Aksaray. When built, it would have been the third largest han in Anatolia.

STATE OF CONSERVATION, CURRENT USAGE
The han is in a ruined state. A major archeological survey and excavation led by the Isparta Museum, begun in 2006, is ongoing.
BIBLIOGRAPHIC REFERENCES
Acun, H. Anadolu Selçuklu Dönemi Kervansarayları. Ankara: Kültür Bakanlığı Publications, 2007, pp. 236-253 (includes extensive bibliography in Turkish); 494.
Eravşar, Osman. Yollarin Taniklari (Witnesses of the Way), 2017, pp. 464-469.
Erdmann, Kurt. Das Anatolische Karavansaray des 13. Jahrhunderts, 1961, pp. 125-6, no. 33.
Karpuz, Haşim. & Kuş, A. & Dıvarcı, I. & Şimşek, F. Anadolu Selçuklu Eserleri, 2008., vol. 1, pp. 374-5.
Rice, Tamara Talbot. The Seljuks in Asia Minor, 1961, p. 206.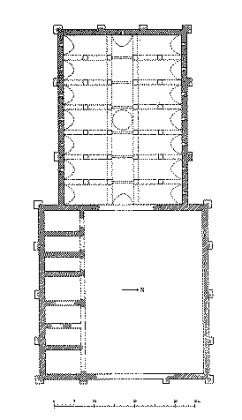 Eravşar, 2017. p. 464; photo I. Dıvarcı

Eravşar, 2017. p. 467; photo I. Dıvarcı

Karpuz, Anadolu Selçuklu Eserleri (2008) v.1, p. 375

Karpuz, Anadolu Selçuklu Eserleri (2008) v.1, p. 375.

sign for research project

general overview of the excavation and collapsed covered section to rear

general overview of the excavation with collapsed covered section

overview of city wall next to the Dündar Bey Medrese, with reuse spolia from the han

View of Lake Eğirdir from the han
©2001-2016, Katharine Branning; All Rights Reserved. No part of this site may be reproduced in any form without written consent from the author.