The Seljuk Han of Anatolia
DURAGAN HAN
---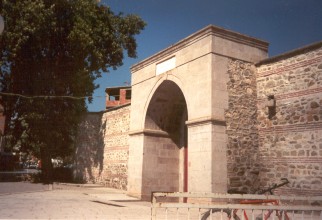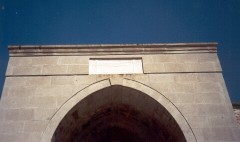 Inscription plaque (kitabesi) over main portal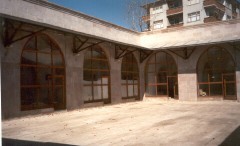 Cells in main courtyard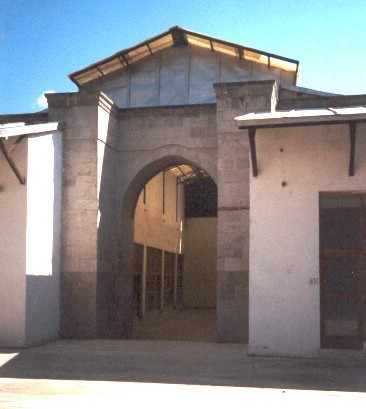 Portal leading to the covered section
DISTRICT
57 SINOP

LOCATION
The han is located 30 km east of Boyabat on the Vezirköprü Road, at the spot where the Gök Irmak and the Kızılirmak Rivers meet in the village of Durak.
[map]

OTHER NAMES
Durak Han
Boyabat-Vezirköprü Han
Pervane Süleyman Hanı

DATE
1266

REIGN OF
Giyaseddin Keyhüsrev III (dated by inscription)

PATRON
The courtyard portal has an inscription of 7 lines which states that this han was built in the time of Keyhüsrev by the Pervane Muineddin Suleyman bin Ali in 664 [H]. It also indicates the name of the architect, Gevherbaş bin Abdullah.
At this time Pervane was the virtual ruler of this part of the Sultanate of Rum (see "History" section).

BUILDING TYPE
Covered with open courtyard (COC)
Covered section smaller than the courtyard
Covered section with a central aisle and 1 aisle on each side running perpendicular to the back wall
5 bays of vaults

DESCRIPTION
This han has a wide courtyard in relation to the hall.
Like the Kesikköprü, Zazadin and Ağzikara Hans, this han has an excentric entrance (the two portal doors are not in the same axis as is generally the case for open courtyard and covered plan hans.) The orientation of the courtyard (east) and the hall (south) is not the same, and was not apparently due to the site requirements.
The mosque was located in a room in the doorway passage to the right of the courtyard.
DECORATION
The portal and most of the hall have been entirely rebuilt. The courtyard arches have broken pointed arches in the Persian style, an atypical Anatolian shape. It is possible that Pervane may have commissioned a Persian architect to build this han like he did for his mosque at Sinop (built in 1256).

DIMENSIONS
Total external area: 1435 m2. The han is quite large in size.
Area of hall: 330m2
Area of courtyard: 925m2

STATE OF CONSERVATION, CURRENT USAGE
Restoration of this han began in 1992 and was completed in 2007. It serves for commercial use.

BIBLIOGRAPHIC REFERENCES
Acun, p. 492.
Altun, p. 200.
Erdmann, pp. 72-74, no. 20 (plan, photos).
Karpuz, Kuş, Dıvarcı and Şimşek (2008), vol. 2, p. 302.
Rice, p. 206.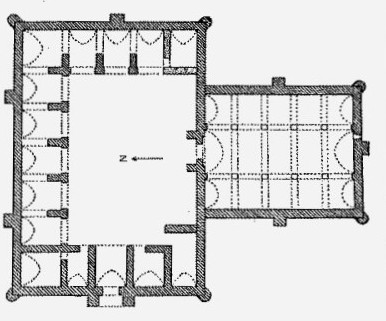 ©2001-2016, Katharine Branning; All Rights Reserved. No part of this site may be reproduced in any form without written consent from the author.