The Seljuk Han of Anatolia
ZAZADIN HAN
---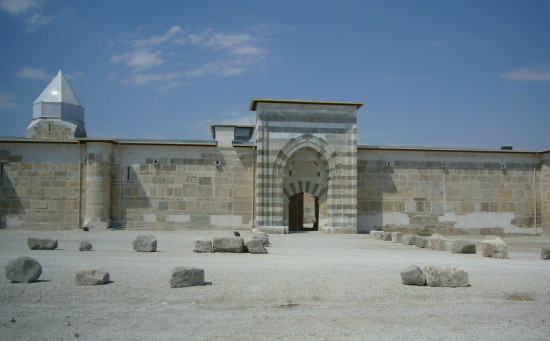 restored facade as of June, 2008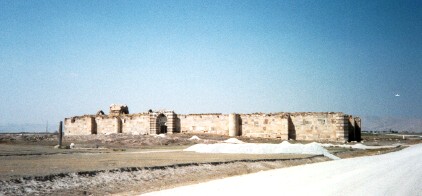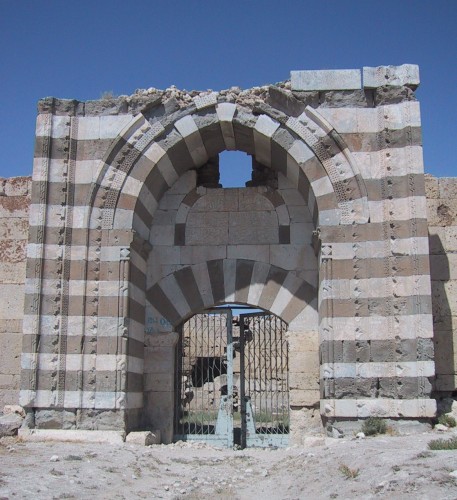 Main entry door showing distinctive striped courses of grey and white limestone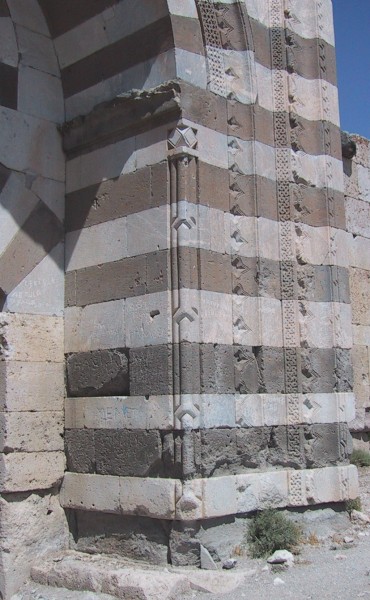 detail of ropework and sawtooth decoration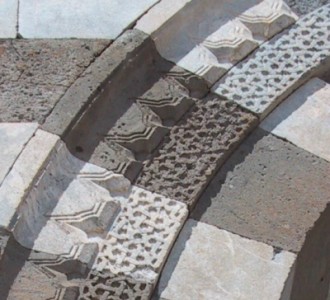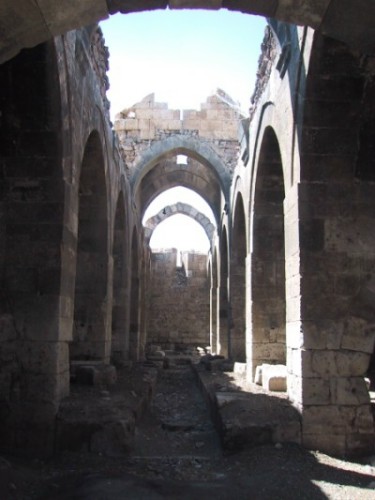 Central aisle of covered section, roof now collapsed
nb: the above photos date to prior the 2008 renovation. See albums below for further pre-renovation images as well as the current restored condition
DISTRICT (IL)
42 KONYA

LOCATION
This han is located 27 km northeast of Konya on the Aksaray-Konya Road, at the turnoff for the village of Tömek. It can also be reached from the Konya-Ankara Road, outside the village of Kavacık.
[map]

OTHER NAMES
Sadettin Han, named after its patron, the vizier Saadettin Köpek.

DATE
1236-1237 (as per the inscription)
There are two inscriptions: one over the main portal door, dating from 1236 and which states that it was built in the time of Alaeddin Keykubad by the Emir Köpek, and the second one over the courtyard door stating that the han's construction was started in 1235 by Alaeddin Keykubad and finished by his son Giyaseddin Keyhüsrev in 1237.
REIGN OF
Building started in the last year of Alaeddin Keykubad's rule (1235-36) and was completed during the reign of his son, Gıyaseddin Keyhüsrev.

PATRON
Seljuk Emir Sâdeddin Köpek ben Mohammed, vizier of Alaeddin Keykubad.

BUILDING TYPE
Covered with open courtyard (COC)
Covered section is smaller than the courtyard
Covered section with a middle aisle with 2 aisles on each side
6 bays of vaults

DESCRIPTION
Plan:
The han faces west, and lies parallel to the road, with the door facing Konya.
The unusual features of this han include its broad courtyard and the location of the entrance portal, eccentrically placed on the southern side. It is an exceptionally large han, the 10th largest.
Like the Duragan, Kesikköprü, and Ağzikara Hans, this han has an excentric entrance (the two portal doors are not in the same axis as is generally the case for open courtyard and covered plan hans)
Exterior and portal:
There are 2 corner towers and 11 towers on the exterior sides. The doors are bolted with a wooden bar which slid across it into the walls on either side.
Courtyard:
The relationship of the very long courtyard and the small hall give this han a somewhat disproportionate, long and low appearance. The extremely long courtyard widens on the northeastern side, forming an elongated rectangle. The spaces along its long sides are of unequal size. The han's northern part is the open courtyard used in the summer (17 X 54 m). Around the northern side of the courtyard is a sunken area for stabling animals, set apart by a retaining wall. There is also a bath in the room in the southeast corner of the courtyard, with a elaborately-carved doorframe and brick squinches. There was also a kitchen-refectory on the northern side of the courtyard, immediately before the section of open arcades.
Mosque:
The building's small mosque is located in the upper storey above the entry gate portal. It is reached by a staircase of 11 steps. The mosque is decorated very sparsely, and comprises a stone mihrab with a niche decoration of stalactites and other geometrical decorative elements.
Covered section:
The southern part of the han is a covered section (22 x 28m) which was used as the winter section. This is a very large and high space, and resembles a cathedral nave.
The structure has 5 vaults and a dome in its covered area.
There are slit holes instead of windows in the covered section. The lantern dome of the covered section rests on squinches with stalactites. The section has raised platforms for unloading and loading goods.

Architect:
The architect is possibly Emir Köpek, who was principally known as an architect in the court of Alaeddin Keykubad, and who built the sultan's palace at Lake Beyşehir, the Kubadabad.

DECORATION
The inner and outer doors are made of bi-colored limestone courses in blue and white which give a decorative harmony. This use of bicolor stone is perhaps a reference to the famous north portal of the Alaeddin Mosque in Konya, added by Alaeddin Keykubad in 1220. Above these doors are inscription plaques. Ropework and sawtooth designs are the principal decorative element.

There are numerous Byzantine reuse stones in the external façade. The use of spolia in this han is as extensive as the nearby han of Obruk. These two neighbors must have pillaged the stones from a very prominent nearby Christian church. Many of the stones are tombstones, often laid sideways.

DIMENSIONS
The total external area: 2,575m2
Area of hall: 620m2
Area of courtyard: 1625m2

STATE OF CONSERVATION, CURRENT USAGE
This han stood for many years in a semi-ruined state.
The forward-looking mayor of the Selçuklu Township, Adem Esen, decided in 2005 to initiate a major renovation project for this han. The project was deemed important, not only to prevent its further deterioration, but also to restore it to its former glory. The $1.8 million restoration project began in December, 2007, and was inaugurated by Turkish Prime Minister Recep Tayyip Erdoğan on April 25, 2008. A mere 210 days of breakneck activity by skilled artisans has brought this han back to life, where it now serves as a community space for official ceremonies, conferences, concerts, receptions and other assorted public functions. The newly-renovated han was opened to Konya by the organization of a joint wedding ceremony for 35 couples in its walls on May 25, 2008, a symbolic and inspirational setting for these young newlyweds to take their first steps together. The project was opened to the world on June 12, 2008, by an official dinner and concert by famed pianist Tuluyhan Uğurlu, held in conjunction with the 11th World Conference of Historical Cities which took place in Konya, attended by over 700 participants.
This renovation is a beautiful gift to the Turkish people, who will now make pilgrimage trips to Konya not only to see the tomb of Mevlana, but also to visit this important cultural legacy landmark. Konya, with its newly-restored houses and churches in Sille, this han and the others in the nearby region, Mevlana's tomb and the spectacular Seljuk-era Ince, Sahip Ata, Karatay and Sircali medreses, is now certainly one of the most important cultural destinations in all of Turkey, and a true crossroads of civilizations and cultures in the heart of Anatolia.
Its impressive size, long and low profile, striking bicolor portal, intact inscription plaques and extensive spolia decoration make this an unforgettable han to visit.

BIBLIOGRAPHIC REFERENCES
Acun, p. 194-209 (includes extensive bibliography in Turkish); 466-467; 519
Altun, p. 200
Bektaş, p. 90-93
Bayrak, p. 458
Erdmann, p. 102-107, no. 28
Ertuğ, p. 79
Hillenbrand, fig. 6.48, p. 552
Karpuz, Kuş, Dıvarcı and Şimşek (2008), vol. 2, pp. 86-87.
Kuş Selçuklu, p. 81-82 (excellent pre-restoration photos)
Rice, p. 205
Unsal, p. 49
Please click below for photos of the han after its restoration in 2007-2008:
facade, right, showing spolia

main portal with grey and white stone courses

inscription plaque on main door

inscription plaque over main entry door

spolia on facade wall right

hole for timber log bolt, left. The modern meets the traditional

bolt for timber bolt, right

portal to covered section

inscription plaque over covered section door

central aisle of covered section

side aisle, covered section

loading docks in covered section

steps in court leading to the mosque above the main entrance

detail of carving, mihrab left

detail of carving, mihrab right

courtyard view, northeast

steps to roof platform, north side of courtyard

view of courtyard, northeast

courtyard, view northeast from mosque

view of northern side of courtyard

Courtyard view, northwest

courtyard view west, towards covered section

interior of courtyard cell, east

detail of carving, hamam door

door to kitchen, courtyard north

detail, corniche carving in courtyard

retaining wall for animals, courtyard south

side aisles, courtyard north

view of han approaching from the west

view of han approaching from west

information sign, English

information sign, Turkish

Restoration inscription plaque for work of 2007

Maquette model of the han, now located in the Konya Municipal bus station
The following photos show the han during the renovation, in July, 2007:
The following photos show the han before its restoration in 2008:
| | |
| --- | --- |
| courtyard looking towards covered section | detail, western side of courtyard |
| Squinch brickwork in chamber at southeast corner | Stairs leading to mosque |
| Stairs leading to roof terrace | courtyard, northeast |
| Sunken area for stabling animals on southern side of courtyard | Stabling area on southern side courtyard |
| courtyard arcades, northern side | courtyard arcades, northeastern side |
| Front wall showing spolia stones in situ | examples of spolia |
| Rear wall showing spolia stones in situ | |
| | |
| | |
| | |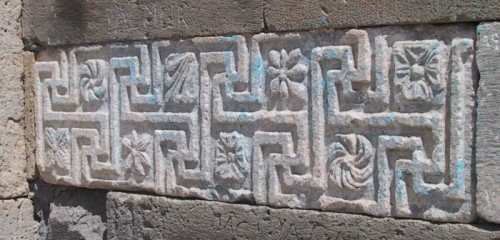 Overview of the Zazadin Han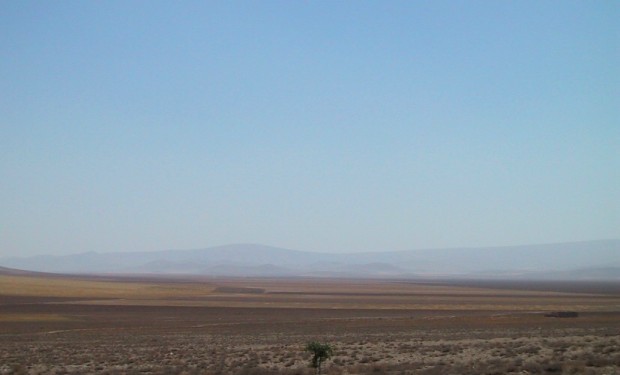 The Konya-Aksaray road near the Zazadin Han, unchanged since the 1st, 2nd and 3rd Crusaders passed here
©2001-2011, Katharine Branning; All Rights Reserved. No part of this site may be reproduced in any form without written consent from the author.