The Seljuk Han of Anatolia
YENICEKOY HAN
---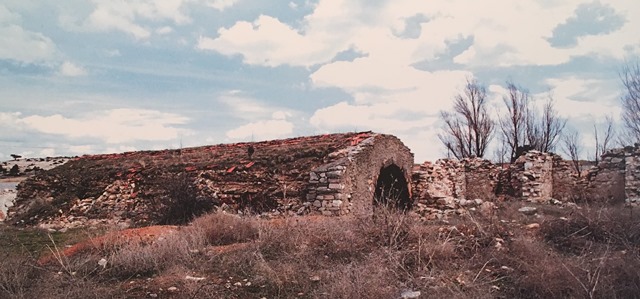 Karpuz Anadolu Selçuklu Eserleri (2008) v.2, p. 148
DISTRICT
43 KUTAHYA

The Yenice Han is located on the Afyon-Kutahya road, 23 km outside of Kutahya in the village of Yenice. It is in ruins; only the entry and walls remain.
DATE
The exact construction date is unknown, but researchers believe it could have been built as early as 1194.
BUILDING TYPE
Covered section with an open courtyard (COC)
DESCRIPTION
The covered section of the han has a square plan and its walls were made with stones with rubble infill. The section of the han used as the mosque contains a very simple mihrab. Traces of the cells can be seen around the courtyard.
The Ottoman Sultan Selim I stayed here for one night on his return from his victorious battle of Chaldiran against the Safavids in August, 1514. The 17th century Ottoman traveler Evliya Celebi also stayed here on several occasions. The han continued in service throughout the Ottoman period and up until the 1960's. Not much is known about this han.
STATE OF CONSERVATION, CURRENT USE
The han is in ruins and most of its sections are buried under earth. The han has been looted by scavengers, and it is believed that the inscription plaque was stolen.
BIBLIOGRAPHIC REFERENCES
Kalyon, M. Kütahya'da Selçuklu-Germiyan ve Osmanli Eserleri. Kütahya Belediyesi Kültür, 2000.
Karpuz, H. & Kuş, A. & Dıvarcı, I. & Şimşek, F. Anadolu Selçuklu Eserleri, 2008, v.2, p. 148.
©2001-2019, Katharine Branning; All Rights Reserved. No part of this site may be reproduced in any form without written consent from the author.