The Seljuk Han of Anatolia
ORESIN HAN
---
DISTRICT (IL)
68 AKSARAY
LOCATION
This han is located on the Aksaray-Nevşehir Road, 12 km east of Aksaray, 100 m to the northern side of the road. It is 12 km from the Alay han, and 17 km from the Ağzikara han.

OTHER NAMES
Tepsidelik Han

DATE
1188.
Until recently, the Öresin Han is considered to have been built in the third quarter of the 13th century by analysis of the stylistic features. On what must have been an one exciting day during the 2007 renovation of the han, the inscription plaque was found among the fallen stones by Necdet Ozkan. After analysis, it has been possible to determine the construction date.

REIGN OF
Sultan Kilicarslan II
PATRON

BUILDING TYPE
Covered, no courtyard (C)

DESCRIPTION
The han portal faces southeast and has one large hall with five aisles. The plan comprises an unusual layout of the aisles. On either side of the central aisle are two pairs of vaults running perpendicular to the rear wall, and they are separated by a central transversal aisle running parallel to the back wall. Two additional vaults running parallel to the rear wall are located on the front and rear walls. This unusual plan creates four separate pieces underneath the inner vertical pieces.
Although not much remains standing, the pendentives on the dome, the architectural proportions and the workmanship are all impressive.

The portal and part of the dome are in ruins, but the spaces are covered by cradle vaults and supported by symmetrically placed groups of three columns around the pendentive dome are striking in appearance.

DECORATION
It is not possible to get an idea of the original portal decoration in view of the current ruined state.

DIMENSIONS
Area of hall: 727m2
Outer area: 560m2

STATE OF CONSERVATION, CURRENT USAGE
The facade and the first row of arcades of all the aisles are now destroyed, with only the back part remaining standing. Remains of the central dome still exist. It stands as a proud, dignified sentinel on this lonely stretch of road. As of 2007, the han is undergoing a renovation by the Turkish Government.

BIBLIOGRAPHIC REFERENCES
Acun, p. 517
Bektaş, p. 106-107
Erdmann, p. 167-169, no. 51
Hillenbrand, fig. 6.57, p. 553
Karpuz, Kuş, Dıvarcı and Şimşek (2008), vol. 1, p. 69.
Rice, p. 206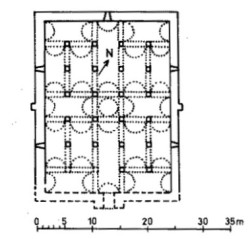 The Oresin Han has a bit role in the 1970 film "You Can't Win 'em All", starring Charles Bronson and Tony Curtis as soldiers of fortune for the Sultan in 1922 Turkey. The film was shot in the region of Avanos, and there is a brief shot of the mounted soldiers passing in front of the han.
©2001-2011, Katharine Branning; All Rights Reserved. No part of this site may be reproduced in any form without written consent from the author.