The Seljuk Han of Anatolia
KESIKKOPRU HAN
---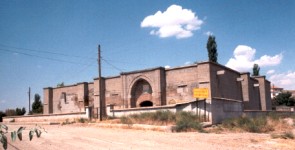 View of han from the Kesikköprü bridge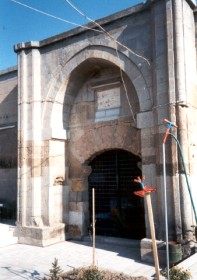 Main portal with
inscription plaque (kitabesi)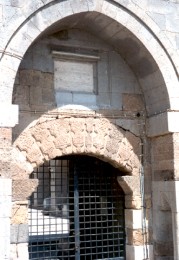 Detail of key decoration of main portal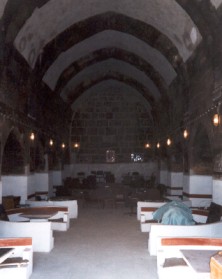 Central aisle of covered section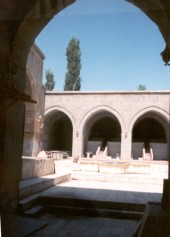 View into courtyard from main entry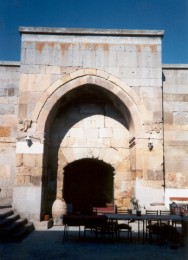 Portal leading to the covered section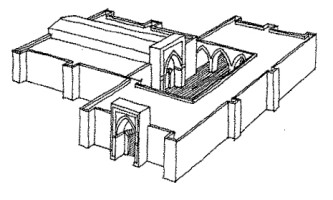 axonometric drawing showing the unusual orientation of covered section in relation to the main portal
DISTRICT
40 KIRSEHIR

LOCATION
This han is located on the Kirşehir-Kayseri Road, 18 km south of Kirşehir on the right bank of the Kızılirmak River. It lies next to a stunning Seljuk bridge spanning the river. This bridge, one of the longest Seljuk bridges in Turkey, has 13 arches, and still possesses its original ornate inscription plaque.
DATE
1268 (dated by the inscription plaque over the entry door)

REIGN OF
Giyaseddin Keyhüsrev III

PATRON
Vizier Nureddin Cebrail Bin Caca, who was vizier and governor of Kirşehir during the reign of Giyaseddin Keyhüsrev III (1266-1283). He was made governor of the city in 1261, and held the post as late as 1271. He is responsible for numerous other foundations in Kirşehir, Kayseri, and other cities.

BUILDING TYPE
Covered with open courtyard (COC)
Covered section is smaller than the courtyard
3 parallel aisles running perpendicular to the back wall
6 bays of vaults

DESCRIPTION
The "han of the broken bridge" faces west. There is a mosque to the left side of the portal in the entry passageway. No bath has been noted. The orientation of this han is unusual, with the covered section to the side of the portal and not directly in its axis, as is the general rule (other hans with this orientation are the Ağzikara, Zazadin and Durağan hans).
To the west of the entrance is a small cell which served as the mosque.

DECORATION
There is a powerful decoration of key motifs over the arch of the portal door. Other decorative elements include snakes, bulls, braids and lions. The mihrab in the mosque is elaborately decorated with carved stones.

DIMENSIONS
Total area: 1000m2
Area of Hall: 310m2
Area of courtyard: 510m2

STATE OF CONSERVATION, CURRENT USAGE
The han has recently been restored (in the 1990 and again in 2008), and is now used as a municipal wedding hall. The setting of this han, in a quiet village next to the impressive Seljuk bridge over the rapidly flowing waters of the Kizil Irmak, is quite dramatic.

BIBLIOGRAPHIC REFERENCES
Acun, p. 510.
Altun, p. 200.
Erdmann, pp. 74-77, no. 21.
Hillenbrand, fig. 6.46, p. 552; 6.47, p. 347.
Karpuz, Kuş, Dıvarcı and Şimşek (2008), vol. 2, pp. 22-23.
Özgüç, Tahsin. Uç Selcuklu Abidesi: Dolay Han, Kesikköprü Kervansarayi ve Han Camii. Türk Tarih Basimevi, 1955.
Rice, p. 206.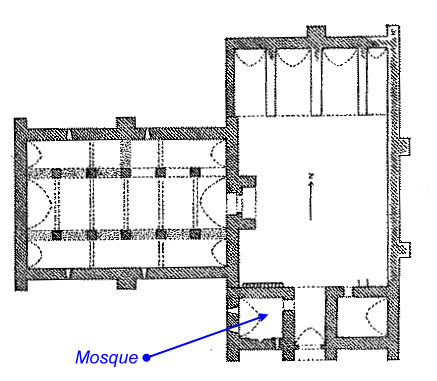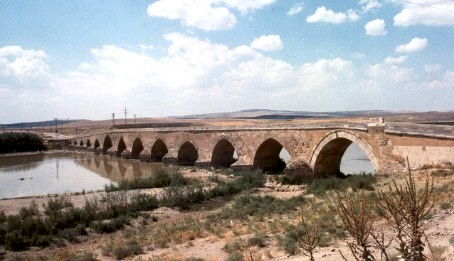 The Kesikköprü Bridge over the Kizil Irmak River
for a series of photos of the han taken in 1989 by John Ingham, click below:
Portal to covered section

Detail portal, showing animal figure

Portal detail, showing animal figure
©2001-2017, Katharine Branning; All Rights Reserved. No part of this site may be reproduced in any form without written consent from the author.