The Seljuk Han of Anatolia
KADIN HAN
---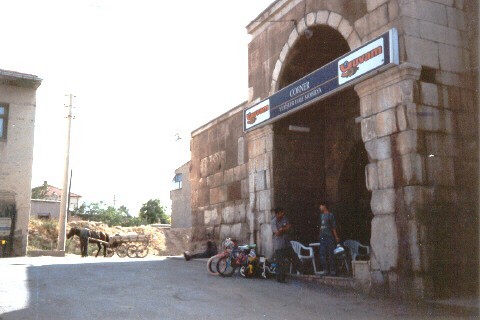 Main entry portal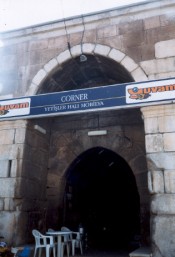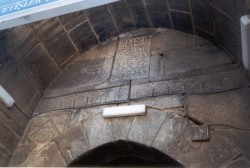 Inscription plaque (kitabesi) over main portal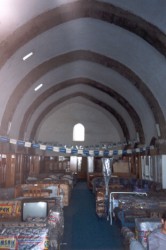 Central aisle of covered section
DISTRICT
42 KONYA

LOCATION
This han is located on the Akşehir-Konya Road; in the town of Kadinhan.

DATE
1223 (dated by inscription)

REIGN OF
Probably Alaeddin Keykubad I

PATRON
A woman by the name of Ruqiya (or Radija) bint Mahmud. She is identified with Devlet Hatun, presumably a wife or daughter of Giyaseddin Keyhüsrev I, and who was the epigraphically-attested founder of the Hatuniye Mosque in Konya.
The inscription plaque provides the date of construction and states that the han is a gift to God from this woman, and implores Him to have pity on her. She died after the construction of the han and is now buried in the garden of the Hatuniye Mosque.

BUILDING TYPE
Covered open courtyard (COC)
Covered section smaller than courtyard
3 parallel vaults running perpendicular to the back wall
6 bays of vaults

DESCRIPTION
This han, the "Lady's Han", is named in reference to its patron. It faces west towards Konya and lies parallel to the road. The mosque was perhaps located in one of the rooms in the courtyard, but this courtyard area is now gone. The portal is fairly elaborate, and includes a recessed arch with the inscription plaque.

DECORATION
Many Byzantine reuse stones (spolia) are seen in this han, notably one on the façade depicting two robed women standing next to a basket. Many of the spolia stones bear antique Greek inscriptions, and appear to be funerary stones, whereas at Obruk, Zazadin, Eli-Kesik and Kuruçeşme, the spolia is of Byzantine Christian origin. The stones used in the Kadin Han most probably came from the nearby city of Ladik. Ladik, formerly known as Laodikeia Katakekaumene, was a very important Greek city founded by Seleucus I Nicator around 300BC. Numerous fragments of ancient architecture and sculpture have been found here, and visitors in the 19th century described seeing inscribed marble altars, columns, capitals, friezes, cornices dispersed throughout the streets and among the houses and burying grounds.
DIMENSIONS
Area of hall: 640 m2

STATE OF CONSERVATION, CURRENT USAGE
The courtyard in the front part no longer exists. After the Seljuk era, the han continued to be used during the Karaman period until the late Ottoman era, after which it fell into disrepair. The han was restored in 1973 and currently serves as a furniture store.

BIBLIOGRAPHIC REFERENCES
Erdmann, pp. 49-51, no. 10.
Karpuz, Kuş, Dıvarcı and Şimşek (2008), vol. 2, p. 142.
Kuş Selçuklu, pp. 53-55.
Rice, p. 206.

Click on images below for additional views of the han.
Note that the orientation of all spolia is as appears in the han walls (upside down, sideways, etc). (Photos from 2008)
portal view from south side

inscription plaque in recessed arch

Reuse stones (spolia); north side

Reuse stones (spolia) ; the famous portraits of women
©2001-2016, Katharine Branning; All Rights Reserved. No part of this site may be reproduced in any form without written consent from the author.