The Seljuk Han of Anatolia
INCIR HAN
---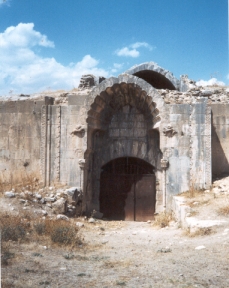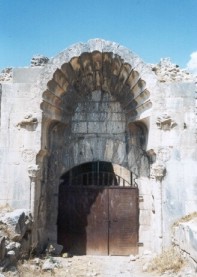 Detail of scalloped vault over main portal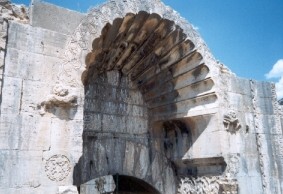 High-relief sculptures of lions with solar symbols on main portal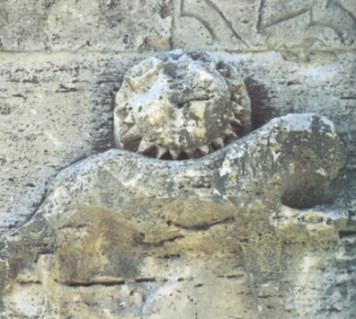 Lion and solar symbol portal detail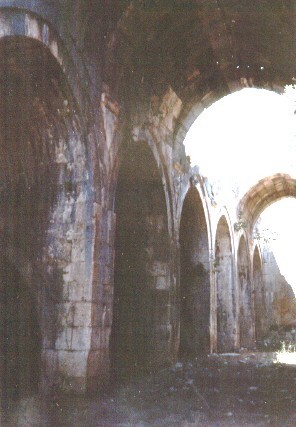 Cells in covered section; roof of middle vault now collapsed
DISTRICT (IL)
32 ISPARTA

LOCATION
This han is located on the Antalya-Isparta (Burdur) road, near the town of Susuz. Turn left at the turnoff for Bucak. The han lies a short distance down the road, near the Incirdere village.
[map]

OTHER NAMES
The name of this han means the "Fig Tree" han, perhaps in reference to the numerous fig trees found in this area.

DATE
1238-39 (dated by the inscription)
This is a "Sultan Han", a han commissioned directly by a Sultan. Chronologically, it is the 5th in line of the Sultan Han group.

PATRON
Gıyaseddin Keyhüsrev II
REIGN OF
Gıyaseddin Keyhüsrev II (as per dated inscription over the hall door)

BUILDING TYPE
Covered open courtyard (COC)
Covered section smaller than courtyard
Covered section with a central aisle and two side aisles on each side running perpendicular to the back wall
6 bays of vaults

DESCRIPTION
The han faces south. It consists of an indoor area covered by three vaults, and a wider courtyard. Next to the han is a fountain and a bath.

DECORATION
The hall portal is noteworthy. It consists of a protruding iwan with a vaulted niche in the shape of a scalloped shell. At the base of the arch is a figure of a lion cut in very high relief. Perhaps the most striking feature is the solar symbol with a human face embellishing the backs of the high-relief lions. This solar symbol is the armorial symbol of the Sultan Gıyaseddin Keyhüsrev II, a variant of those seen on Seljuk coins minted during his reign. Other decorative elements include arabesques.

DIMENSIONS
Total area: 2,750 m2
Area of hall: 1120 m2
Area of courtyard: 1300 m2

It is one of the smaller hans.

STATE OF CONSERVATION, CURRENT USAGE
Basically all that remains of the courtyard are the foundations; the rest is in good condition. It was surveyed in 1992-3 and in 2000. This is a very handsome structure. There are apparently plans to convert it into a tourism business.

BIBLIOGRAPHIC REFERENCES
Acun, p. 304-319 (includes extensive bibliography in Turkish); 450, 456-457, 504
Altun, p. 199
Erdmann, p. 107-110, no. 29
Ertuğ, p. 79-80
Bektaş, p. 60-61
Hillenbrand, fig. 6.53, p. 553
Karpuz, Kuş, Dıvarcı and Şimşek (2008), vol. 1, p. 215-218.
©2001-2011, Katharine Branning; All Rights Reserved. No part of this site may be reproduced in any form without written consent from the author.