The Seljuk Han of Anatolia
HOROZLU HAN
---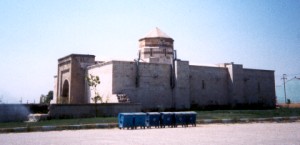 View looking west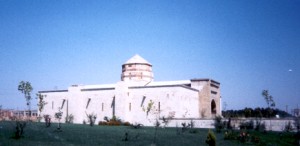 View looking east
Main entrance portal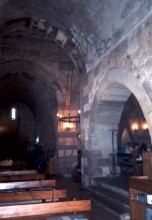 Cells in covered section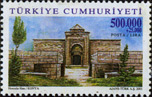 commemorative stamp, 2001 issue
DISTRICT
42 KONYA

LOCATION
The han is located on the Konya-Ankara road, about 5 miles north of Konya, between the road and the railway tracks, next to a cement factory.
[map]

OTHER NAMES
It is also known as the Ruzapa, Orozlu and Rube Han. The people of Konya refer to this han as the Ruzbe han.
Horozlu ("Of the rooster") is probably a deformation of the name of the patron Ruz Apa.

DATE
1246-49

REIGN OF
İzzeddin Keykavus II

PATRON
Seljuk Atabey Camedar Esudüddin Ruz Apa (the atabey of Izzettin Keykavus II between 1246-1249).

BUILDING TYPE
Covered with an open courtyard (COC)
Covered section smaller than the courtyard
Covered section with middle aisle and 2 aisles on each side running perpendicular to the back wall, all of equal width
5 bays of vaults

DESCRIPTION
The han faces west and lies perpendicular to the road. The hall is covered with vaults on 16 piers, and includes a central dome. It resembles the Susuz Han in plan. The indoor area has been repaired in recent years and little is left of the courtyard area.

DECORATION
The hall door inscription plaque is missing. The tympanum is currently filled with a plain, flat marble plaque.
The bricks of the dome vaults are set in a stunning herringbone pattern.

DIMENSIONS
Area of the hall: 650 m2

STATE OF CONSERVATION, CURRENT USAGE
This noble han is now surrounded by factories and industrial buildings. It has been successively restored in 1956-1957 and again in 1963, and currently serves as a tourist restaurant.

BIBLIOGRAPHIC REFERENCES
Acun, p. 502.
Altun, p. 200.
Bayrak, p. 458.
Bektaş, pp. 86-89.
Erdmann, p. 114-117, no. 31.
Guide bleu, p. 605.
Hillenbrand, fig. 6.52, p. 553.
Karpuz, Kuş, Dıvarcı and Şimşek (2008), vol. 2, p. 85.
Kuban (2002), pp. 240-241.
Kuş Selçuklu eserleri, pp. 187-188.
Rice, p. 205.
Click on thumbnails below below for additional photos
©2001-2013, Katharine Branning; All Rights Reserved. No part of this site may be reproduced in any form without written consent from the author.