The Seljuk Han of Anatolia
EGRET HAN
---
A late-period, simple han most probably built by the notorious vizier Pervane Muineddin Süleyman of Tokat.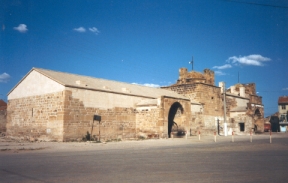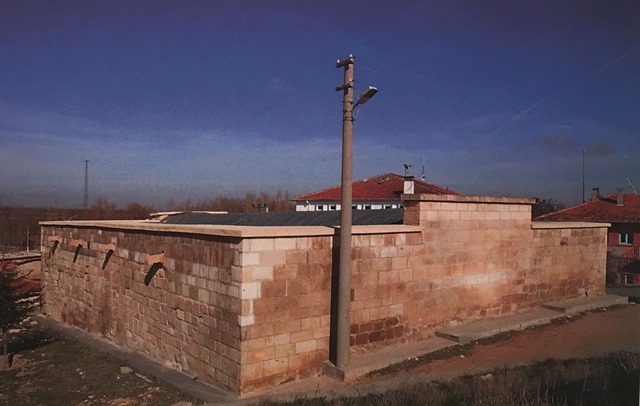 Karpuz, Anadolu Selçuklu Eserleri (2008) v.1, p. 36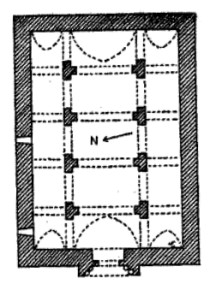 plan drawn by Erdmann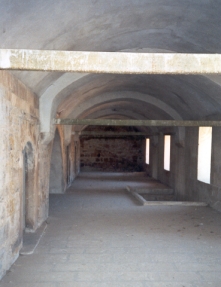 Cells in second storey of covered section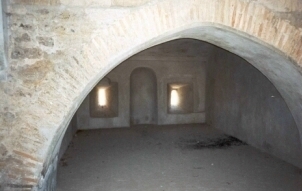 DISTRICT
03 AFYONKARAHISAR

LOCATION
The Eğret Han is located on the Afyon-Kütahya road, in the village of Doğer, 12 miles north of the town of İhsaniye.

DATE
Estimated to be approximately 1260-78 by geographical and stylistic evidence.

REIGN OF
Giyaseddin Keyhüsrev III
INSCRIPTION
The inscription plaque over the hall door has been removed and is unfortunately now lost, so there are no precise historical details.
PATRON
Assumed to be the Pervane Muineddin Süleyman

BUILDING TYPE
Covered, no courtyard (C)

DESCRIPTION
The han faces east and lies perpendicular to the road. It is the last station on the Konya-Afyon trade route.

The han is made of smooth-faced cut stone. No bath or mosque was found. There are two rows of 4 T-shaped columns (8 in all). The han is covered with a pointed vault..

DECORATION
There are Byzantine reuse spolia columns with capitals on the portal, similar to the Altinapa and Derbent hans.
The main entry portal with a round arch is plain.
DIMENSIONS
Area of hall: 320m2

STATE OF CONSERVATION, CURRENT USAGE
The portal and one part of the central nave have been completely rebuilt. It is currently in use for municipal storage. The han was completely restored in 2006.

BIBLIOGRAPHIC REFERENCES
Acun, H. Anadolu Selçuklu Dönemi Kervansarayları. Ankara: Kültür Bakanlığı Publications, 2007, p. 493.
Bayrak, M. O. Türkiye Tarihi yerler kılavuzu, 1994, p. 27.
Erdmann, Kurt. Das Anatolische Karavansaray des 13. Jahrhunderts, 1961, pp. 152-154.
Karpuz, Haşim. & Kuş, A. & Dıvarcı, I. & Şimşek, F. Anadolu Selçuklu Eserleri, 2008., vol. 1, p. 36.
Rice, Tamara Talbot. The Seljuks in Asia Minor, 1961, p. 206.

©2001-2018, Katharine Branning; All Rights Reserved. No part of this site may be reproduced in any form without written consent from the author.