The Seljuk Han of Anatolia
CARDAK HAN
---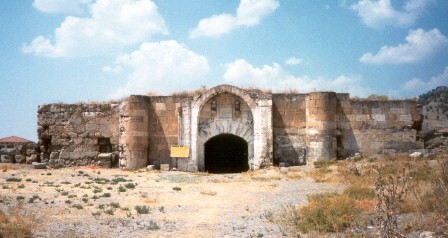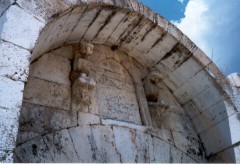 Inscription plaque (kitabesi) over main portal, showing the two lion's heads on each side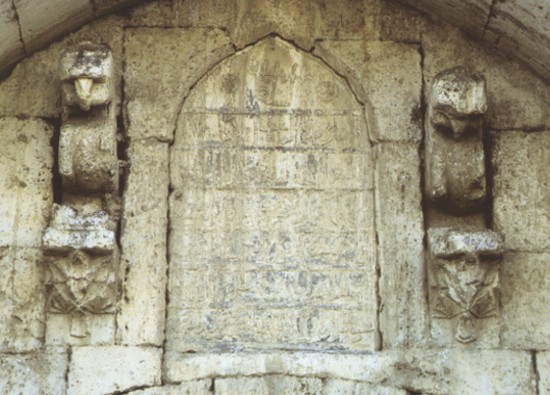 Kitabesi, detail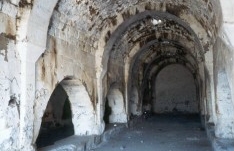 Covered section cells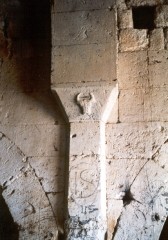 Bull's head in relief on column capital in covered section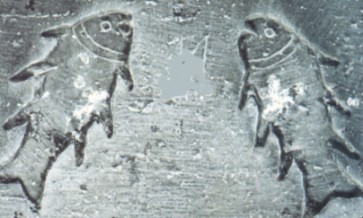 Fishes in relief on column capital in covered section
DISTRICT
20 DENIZLI

LOCATION
This han is located on the Denizli-Dinar Road, in the town of Çardak on the northwestern edge of the Aci Göl (to the left of the train tracks).
[map]

OTHER NAMES
Han Abat or Hanabad

DATE
It was finished in the month of Ramadan in 1230 (627) (dated by inscription).

REIGN OF
Alaeddin Keykubad I (1220-37)

PATRON
According to the inscription of six lines above the hall portal, this han was built in the reign of Alaeddin Keykubad by his freedman and emir Esededdin (or Izzeddin) Ayaz bin Abdullah el-Sahabi, as a place of refuge. He appears to have been a lesser-known dignitary. He could also be the one and the same Asad al-Din Ayaz al-Ghalibi, another patron listed in numerous epigraphs of the era (walls of Sinop, north facade of the Alaeddin Cami and walls of Konya, dated 1221). This Ayaz appears to have served as a sort of master of works or supervisor of the sultan's building projects.

BUILDING TYPE
Covered with open courtyard (COC)
Covered section smaller than courtyard
5 parallel aisles of equal width running perpendicular to the back wall
6 bays of vaults
DESCRIPTION
This han faces west.
It appears to be a simplified version of the Sultan han group.
It is the first example of a hall with 5 parallel naves instead of the habitual 3. Unique as well are the two pointed towers on the hall façade and the stairs up to the roof.

DECORATION
There are geometrical carvings on some stones, and the capitals of the internal piers are decorated with animal (bulls and sheep) and fish heads in relief carving.
Other decorative elements include fretwork and braids on the hall door, and rosettes and rows of chevrons on the sides of the entry door.
The inscription over the portal door is flanked with two expressive lions heads in relief on either side and stalactites.

DIMENSIONS
Total external area: 1850 m2
Area of hall: 610m2
Area of courtyard: 1020m2

STATE OF CONSERVATION, CURRENT USAGE
The han is in good shape and is quite beautiful. It stands empty and can be visited. There are apparently plans to convert it into a tourism business.

BIBLIOGRAPHIC REFERENCES
Acun, pp. 160-173 (includes extensive bibliography in Turkish); 455; 485.
Erdmann, pp. 59-61, no. 15.
Hillenbrand, fig. 6.50, p. 552.
Karpuz, Kuş, Dıvarcı and Şimşek (2008), vol. 1, p. 244.
Rice, p. 206.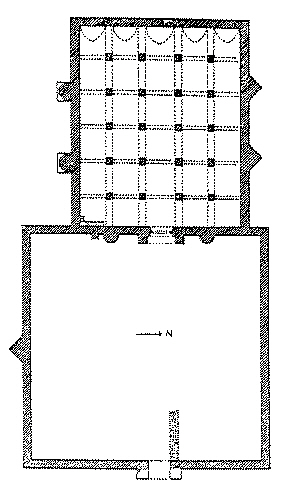 ©2001-2013, Katharine Branning; All Rights Reserved. No part of this site may be reproduced in any form without written consent from the author.