The Seljuk Han of Anatolia
ALAY HAN
---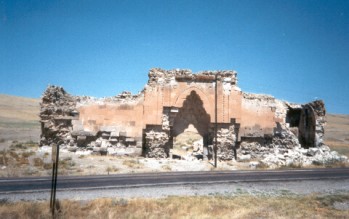 View from road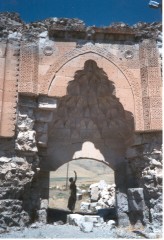 Main portal with elaborate stalactite vault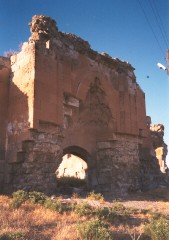 DISTRICT (IL)
68 AKSARAY

LOCATION
This han is located 35 km northeast of Aksaray on the Nevşehir road. It was once straddled both sides of the road, but now only the north section remains.
OTHER NAMES
This building may be what written sources referred to as the Kılıçarslan II Kervansaray. Originally called "Sultanhan", it is believed that its present name was given to avoid confusion with later buildings with the same name. It is also referred to as the Pervane Han.

DATE
There is no inscription plaque. Construction is thought to have taken place before 1190 based on stylistic analysis of the decoration, and due to its traditional name of the Kiliçarslan Han (reign of İzzeddin Kiliçarslan II: 1155-1192). As such, it is considered to be one of the oldest hans built.
REIGN OF
Scholars are not sure: Kiliç Aslan II, Gıyaseddin Keyhüsrev I or İzzeddin Kiliçarslan II (1155-1192)

PATRON
This may or may not be is a sultan han. Although Aslanapa believes this han to be a royal commission, there is no definite proof for this.

BUILDING TYPE
Covered with open courtyard (COC)
Covered section smaller than courtyard
Covered section with a central aisle and two aisles on each side running perpendicular to the back wall
7 bays of vaults

DESCRIPTION
The building faces approximately north and lies perpendicular to the road.
This is considered to be the oldest of hans ever built in Anatolia by the Seljuks of Rum. Unfortunately, the open courtyard section of this han has been completely destroyed, leaving only part of the covered section consisting of three bays roofed by seven vaults. Although it is one of the oldest hans known, it already bears nearly all the distinctive architectural features of the sultan han group. The portal, surmounted by a muqarnas niche, the courtyard + covered section plan, the oculus in the central dome, the central vault, and the seven vaults on either side are typical of classical Seljuk han architecture.

No traces of a mosque or bath have been found.
There is a spring some 50 m to the east.
There appears to be no place provided on the portal for an inscription plaque.
DECORATION
The doorway is framed by a broad border whose stonework geometrical decoration of interlocking octagons and diagonal swastikas, along with seven rows of muqarnas (stalactite carving) is unusual. The hall doorway features a carved lion with a single head and double body, cut in low-relief. There is a magnificent frame decoration of running triangles on the hall door.
The stone of this han has a distinctive red tone, which adds an innate decorative element.
The ornament on the portal door has stylistic similarities to the Great Mosque of Divriği of 1180 and the Çifte Medrese in Kayseri of 1201.

DIMENSIONS
2,900 m2 (total external area)
hall: 1030 m2
courtyard: 1520m2

STATE OF CONSERVATION, CURRENT USAGE
The han was badly ruined and the courtyard section had totally disappeared. Only the portal remained, a proud vestige of the long architectural tradition that it inaugurated. As of 2008, the han has undergone a total restoration that will be completed by the end of 2009.

BIBLIOGRAPHIC REFERENCES
Acun, p. 50-75 (includes extensive bibliography in Turkish); 452; 479
Altun, p. 198
Aslanapa, p. 147
Bayrak, p. 571
Bektaş, p. 108-109
Erdmann, no. 24, p. 81-83
Ertuğ, p. 78
Gülyaz, Murat Etuğrul. "The Kervansarays of Cappadocia". Skylife Magazıne, December, 1999
Karpuz, Kuş, Dıvarcı and Şimşek (2008), vol. 1, p. 69.
Kuban (2002), p. 242
Rice, p. 206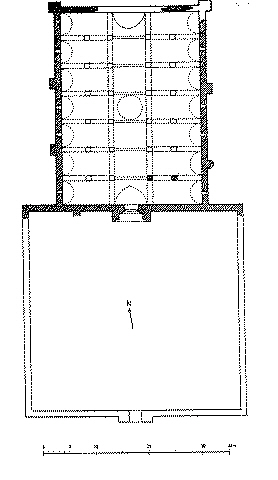 ©2001-2011, Katharine Branning; All Rights Reserved. No part of this site may be reproduced in any form without written consent from the author.